Sharing knowledge on older arts issues
The ideas behind Inde­pen­dent Cre­ative Liv­ing were pre­sent­ed at the 2016 Beal­taine Fes­ti­val held in Dublin.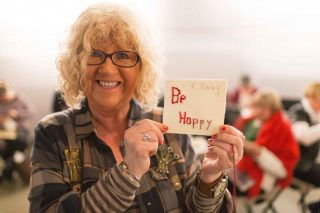 The ini­tia­tor of the Inde­pen­dent Cre­ative Liv­ing (ICL) con­cept Esther Sala­m­on and col­league and researcher Susan Jones were invit­ed to con­tribute to the 2016 Beal­taine Fes­ti­val. This is organ­ised annu­al­ly by Age and Oppor­tu­ni­ty, whose ambi­tion is to turn the peri­od from age fifty onwards into ​"one of the most sat­is­fy­ing times in peo­ple's lives, by facil­i­tat­ing oppor­tu­ni­ties in arts and cul­ture, sport and phys­i­cal activ­i­ty and learn­ing and active cit­i­zen­ship". The theme for 2016 includ­ed ambi­tions to improve the vis­i­bil­i­ty of old­er artists and to enable more of them to keep mak­ing work and being cre­ative in their old­er years.
The pre­sen­ta­tion giv­en as part of the' This is not my beau­ti­ful house' sem­i­nar in May 2016 high­light­ed the poor eco­nom­ic posi­tion for UK's cre­ative peo­ple, most of whom don't gain the com­mer­cial suc­cess need­ed to sus­tain pro­duc­tive and com­fort­able lives into old age, and are heav­i­ly reliant on state pen­sions. In the per­form­ing arts, fifty per cent of pro­fes­sion­al musi­cians take home under £20,000 a year, half of Equi­ty mem­bers make £5,000 from their pro­fes­sion­al work, and the aver­age annu­al income for com­posers from com­mis­sions is £3,689. It's not much bet­ter for writ­ers who earn as lit­tle as £11,000 a year and visu­al artists with an annu­al aver­age income of £10,000. Most cre­ative peo­ple live below the UK's acknowl­edged £17,000 a year pover­ty line and are less like­ly to own prop­er­ty and less than a third will have saved for a pension.
Because most arts poli­cies and tal­ent devel­op­ment schemes pri­ori­tise the cre­ativ­i­ty of ​'young' artists and judge this to be where all the inno­va­tion and ​'cut­ting-edge' work goes on, the exper­tise and insight of cre­ative peo­ple who have a lifetime's art prac­tice behind them is cur­rent­ly bare­ly cap­i­talised on.
Artists, archi­tects, hous­ing and health­care spe­cial­ists at the sem­i­nar heard about the ambi­tion of ICL to address the sit­u­a­tion in the North East of Eng­land. ICL aims to pro­vide safe, afford­able hous­ing with­in a com­mu­ni­ty of like-mind­ed artists and relat­ed cul­tur­al pro­fes­sions. Its aim is to attract peo­ple who were ded­i­cat­ed to sus­tain­ing and shar­ing their expert knowl­edge and cre­ativ­i­ty in order to con­tribute to local and region­al asset exchanges and the new ​'cur­ren­cies' such as time-banks, men­tor­ing and leadership.
http://​beal​taine​.com pro­videhttp://​age​an​doppor​tu​ni​ty​.ie/